The social event of the conference will take place in the afternoon of wednesday, 1st August. At 2 pm the participants will leave Vienna by bus and drive in about one hour to the world famous Melk Abbey, an baroque Benedictine abbey, overlooking the river Danube in the Wachau valley.
After a guided tour through the abbey, we will reach after a short walk down the hill the river Danube and embark on the recently renovated "Admiral Tegetthoff", at around 4:30 pm. The ship is booked exclusively for the participants of the conference.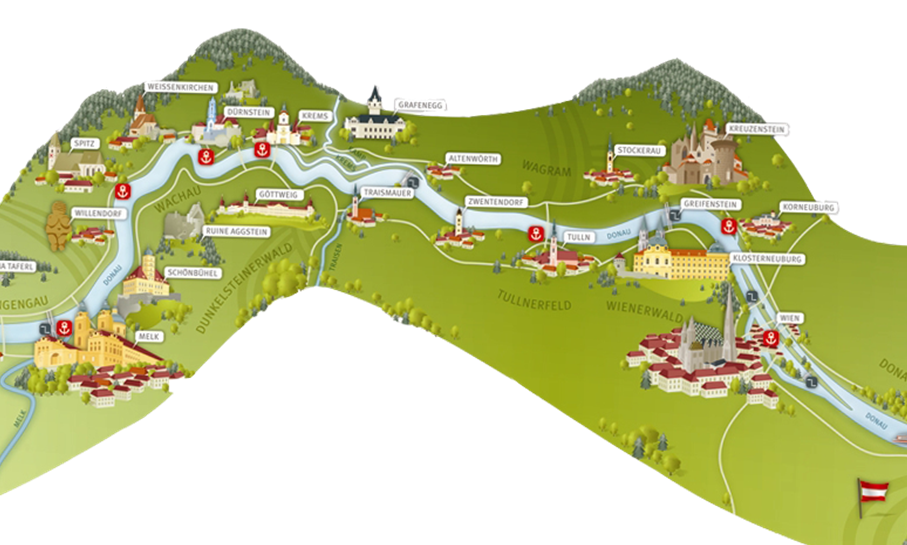 At 5 pm the ship will leave Melk in direction of Vienna. The river Danube will take us through the Wachau valley, an outstandingly beautiful landscape that has been cultivated since prehistoric times. Vineyards, gentle hills, ancient monasteries and pitoresque settlements line the stream. One highlight is the village and ruined castle of Dürnstein, where King Richard the Lion-Heart of England was held captive by Duke Leopold V.
On board coffee and drinks are served. While driving smoothly down the river Danube, the conference dinner will be arranged around 6:30 pm. The ship will arrive around 10:30 pm in Vienna at the Reichsbrücke. The guides will direct you to the subway U1, which will bring you into the town centre. During each stage of the tour English-speaking guides will be present. The costs for the excursion are included in the conference fee. For accompanying persons there will be an additional fee of € 100.